NEW! 700 SERIES Mineral Alkaline Filter (RO and UF Systems)
Mineral Alkaline Post Filter Replacement Cartridge for both UF and RO systems. Typically good for one year of usage.
---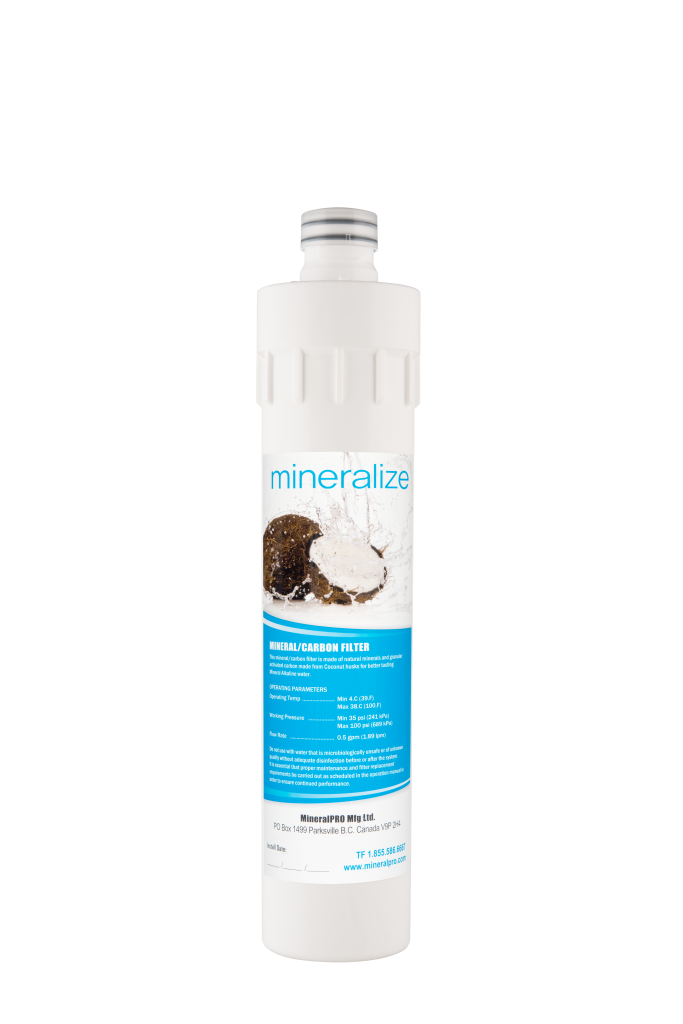 NEW! 700 SERIES Mineral Alkaline Filter (RO and UF Systems)
Product Description
NEW and IMPROVED 700 Series Mineral/Alkaline Cartridge
Our new Mineral Filter cartridge now adds additional health-giving minerals and provides a higher PF for better tasting more Alkaline Water.
This mineral alkaline filter has two stages: stage 1 replenishes the purified water with healthy natural minerals and balances to a healthy alkaline pH level. Stage 2 consists of natural granular carbon from coconut husks that provides a polishing to ensure the drinking water has great taste and spring water quality.
Specifications
Contents:
Mineral Alkaline Filter
Applications:
Compatible with the MineralPRO Reverse Osmosis (RO) and Ultra Filtration (UF) Systems.
RO – stages 4/5
UF – stages 3/4
Features:
Mineral alkaline balancing
Natural Granular Carbon from Coconut Husks : Final polishing for great taste
Easy to install
Specifications:
Filter Rating: 1 Year*
*Note: Filter life may vary based upon local water conditions or use patterns.
Product Dimensions:
Height: 11 inches
Width: 2 inches
Depth: 2 inches
Only logged in customers who have purchased this product may leave a review.