NEW 700 SERIES – UF Cartridge 1yr Replacements
Replacement Cartridge pack for Ultra Filtration System. We recommend changing the UF filters ever 1350 gallons.
---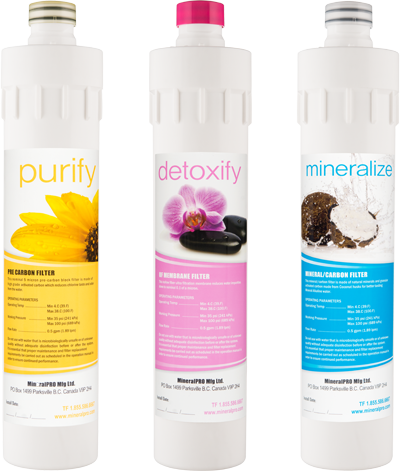 NEW 700 SERIES – UF Cartridge 1yr Replacements
Product Description
Suggested replacement for the UF system is once a year for all three filters, Carbon, UF Membrane, Mineral Alkaline  . If you are using a high volume of water or your water contains a lot of sediment you may need to replace filters more often. If you notice the flow of water decreasing or water not tasting as good as it used to then is probably time to replace your filters.
These Filters only fit our NEW #700 Series Systems.
******SPECIAL OFFER*****
For Customers with our original 100 Series of Ultra Filtration Systems ( UF) Mineral Pro will replace the original #100 Series UF Head Assembly with a new #700 series Head Assembly for a small charge ($35.00) with the purchase of a new set of #700 filters
Cost is $200.00 and includes free shipping! CLICK HERE TO BUY
New systems include our new Mineral Filter that has more Mineral Content and produces great tasting Mineral Alkaline water with a higher PH level.
Please note that the original # 100 filters will be discontinued in the future
Specifications
Specification
Replacements for MineralPRO UF System filters in one simple kit.

Contents:
1 – 1 Micron Carbon pre-filter.
1 – Mineral Alkaline Filter
1 – UF Membrane filter Cartridge
Applications:
Compatible with the MineralPRO Ultra Filtration 700 SERIES (UF) system
Features:
Easy to install, no need to turn off the water. Just a quarter turn.
Specifications:
The recommended filter change is every 1350 gallons*.
*Note: Filter life may vary based upon local water conditions or use patterns.
Product Dimensions:
Height: 11 inches  (x2)
Width: 2 inches (x2)
Depth: 2 inches (x2)
Only logged in customers who have purchased this product may leave a review.